Magnetic Shield Corporation has expanded our proprietary MuMETAL® Product Catalog with our line of New MuMETAL® Shielding Cans which provide efficient low frequency magnetic field attenuation with low coercive forces. Deep drawn Cans are used in many industries for protecting critical devices from electromagnetic interference, electromagnetic radiation and cross-talk signals. Our cans are easily integrated into circuits so this shielding method may be found in audio, automotive, automation, power supply and power generation sectors. MuMETAL® magnetic shielding cans are typically specified for use in many types of products or components such as high-end audio amplifiers, current transformers, specialty transformers, electrical/electronic & printed circuit board (PCB) components and more.
WATCH NEW VIDEO: Deep-Drawn MuMETAL® Cans: Low-frequency EMI Shielding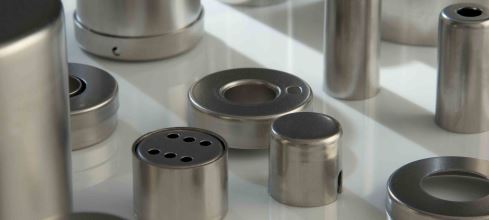 Round or Rectangular MuMETAL® Cans | Custom
We offer a wide range of 5-sided magnetic shielding MuMETAL® Cans stamped or formed in either round or rectangular shapes, and deep-drawn up to a 3:1 depth ratio when necessary. Our standard stock range and custom sizes of magnetic Shielding Cans are available in a range of thicknesses and made from various MuMETAL®, Co-NETIC® or NETIC® shielding alloys depending on your exact shielding requirements. For custom cans, we can manufacture pre-production prototypes of a new design. Smaller quantities of Cans, or larger size Cans, or use of thicker material can be fabricated using traditional methods, including Spinning, CNC forming and TIG welding.